PIKACHU JETS
Take a flight with Pikachu
Pikachu Jets will connect skies across the world, serving passengers a truly memorable air journey.
You can have lots of fun above the clouds in a plane decorated with your favorite Pokémon.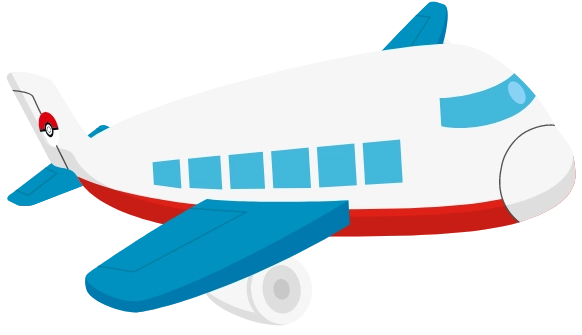 PIKACHU JET BC1・BC2
The Pikachu Jet BC is ready to take off! We've decorated this special plane from Skymark Airlines with a number of flying pikachu.
It will operate primarily on routes to and from Okinawa (Naha and Miyako (Shimojishima)), but will also fly to various destinations served by Skymark Airlines.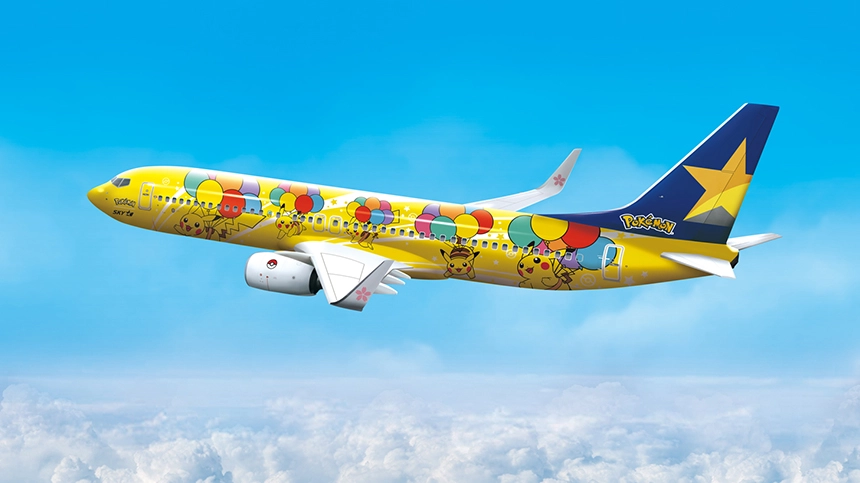 Pikachu Jet BC1
Over a body fully-painted in Pikachu color, we've added a total of ten Flying Pikachu on the jet's left and right sides. Each Pikachu has colorful balloons attached to its back; can you imagine a more fun way to fly? And on the underside, you'll find some other Pikachu peeking through a window. If you see a Pikachu Jet BC1 in flight, keep an eye out for those on the bottom!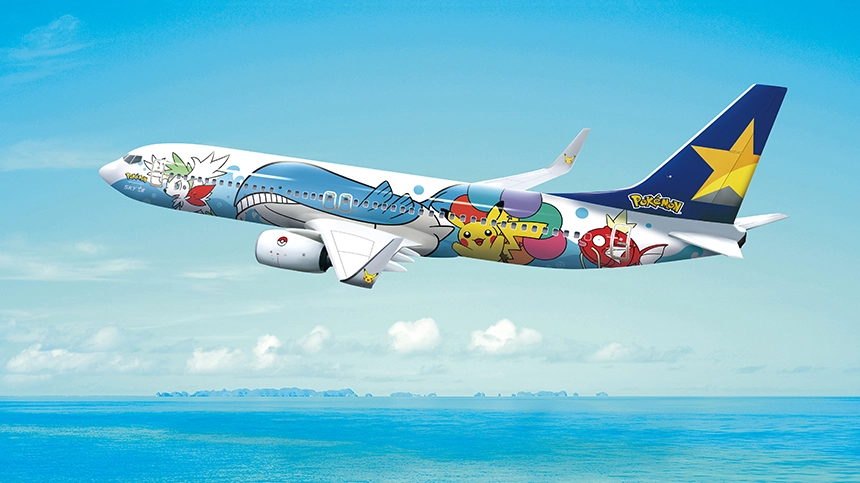 Pikachu Jet BC2
An attention-grabbing life-sized drawing of Wailord sits over a body painted to resemble the ocean. Shaymin and Magikarp, as well as the Flying Pikachu will be in the skies, too! If you spot a Pikachu Jet BC2 in flight, keep an eye out for Horsea and Wishiwashi as well!
PIKACHU JET CI
Pikachu Jet CI, a special plane from China Airlines decorated with your favorite Pokémon, has taken to the skies!
Pikachu Jet CI operates mainly in Asia, including flights between Taiwan and Japan.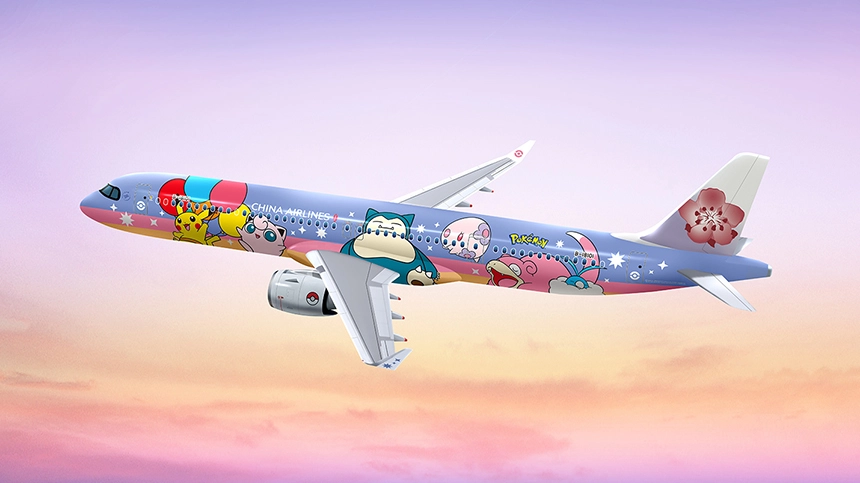 The purple background, sprinkled with twinkling stars, evokes the pre-dawn sky. Eleven Pokémon, including Pikachu, Shaymin, and Snorlax, are depicted on the fuselage, happily watching over everyone's flight. Check out how cute they look as they sleep the night away!
PIKACHU JET TR
Pikachu Jet TR, a Boeing 787 Dreamliner from Scoot decorated with your favorite Pokémon, has launched from September 9th, 2022!
Pikachu Jet TR operates mainly in Asia, including flights between Singapore and Tokyo.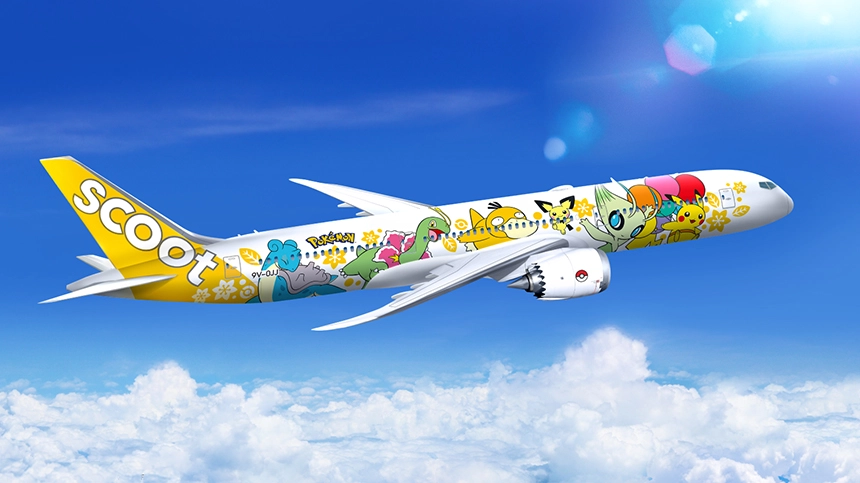 The white background with the petals and leaves fluttering comfortably throughout the design is inspired by the flower scents.
Pikachu, Pichu, Psyduck, Lapras, Meganium and other Pokémon are depicted on the fuselage. There are also Pokémon hiding on both sides of the wings, so please try to look for them when boarding.
PIKACHU JET TW
Pikachu Jet TW, a special plane from T'way Air decorated with your favorite Pokémon, has launched!
Pikachu Jet TW will operate mainly in Asia, including domestic flights in South Korea.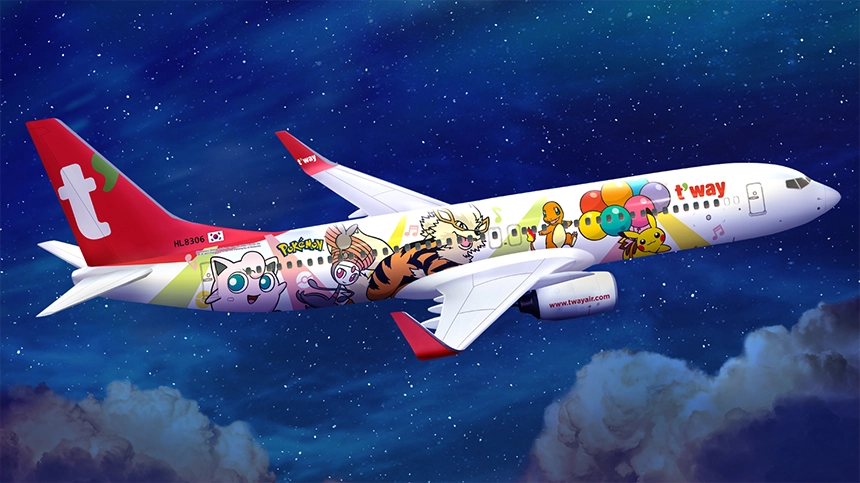 The aircraft is decorated by colorful spotlights and musical notes, higlighting a dazzling stage. Pikachu, Eevee, and Jigglypuff are having a blast as they are surrounded by Meloetta's melody. Feel the excitement as you witness the faces of the Pokemon that color the wonderful stage of the sky.
PIKACHU JET NH・Eevee JET NH
Following the "Pikachu Jet NH", ANA (All Nippon Airways) is scheduled to launch the "Eevee Jet NH" on August 31st, 2023!
Pikachu Jet is operating mainly in Asia, to and from Tokyo (Japan). Eevee Jet will be operating mainly between Tokyo (Japan) and the US as well as Europe.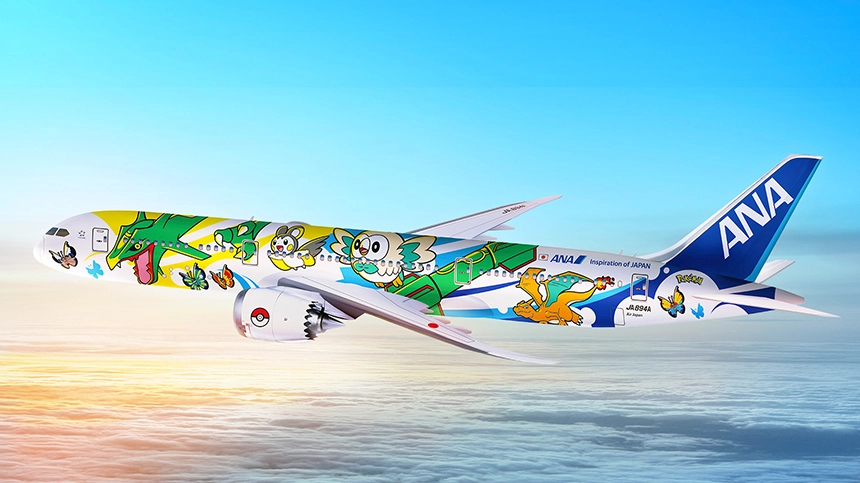 PIKACHU JET NH
The "Pikachu Jet NH" aircraft features a livery designed for ANA, in which the Sky High Pokémon Rayquaza is depicted across the entire fuselage to create a vivid effect.
Charizard, Latias, Latios, Vivillon, and other flying Pokémon from all over the Pokémon world move together with Pikachu toward the shining rays of hope and endless possibilities of an interconnected world. Pokémon are also hidden inside the engines, so please keep an eye out for them when boarding on your next adventure with the Pikachu Jet!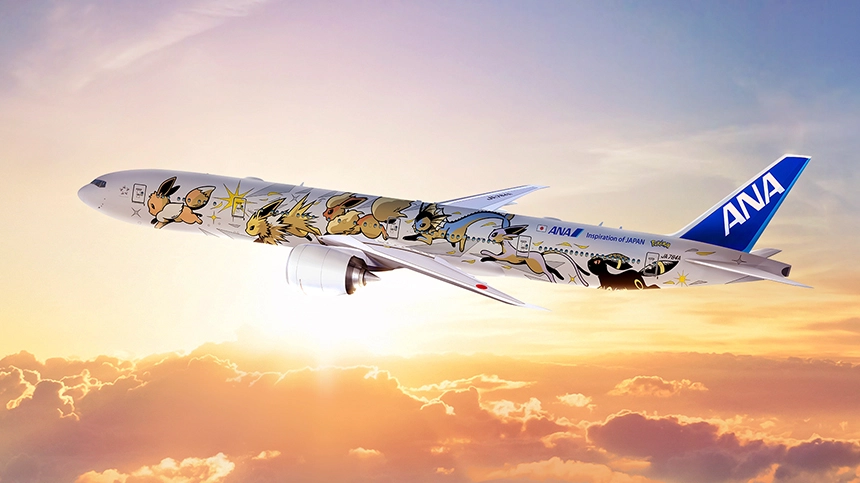 Eevee JET NH
Eevee has the potential to evolve into various forms. Eevee and its Evolutions, such as Vaporeon, Jolteon, and Flareon, are depicted decisively moving forward into the future together with Pikachu. With an air of hope, they take off on a journey into the skies together with people flying to new places.